Home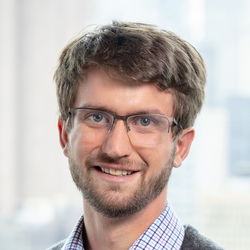 About
I am a PhD candidate in the Operations Research & Financial Engineering (ORFE) department at Princeton University, where my research interests include mathematical statistics and probability theory. Currently I am working with my advisor Matias Cattaneo on nonparametric network estimation, martingale coupling theory and random forest procedures.
I am currently on the academic job market, seeking positions starting in the latter half of 2024.
Biography
I received an MA degree in ORFE from Princeton in 2021. Before moving to New Jersey, I obtained my MMath in Mathematics & Statistics from the Department of Statistics at the University of Oxford in 2019. I was supervised there by Mihai Cucuringu, and wrote my master's dissertation on Motif-Based Spectral Clustering of Weighted Directed Networks. I am an alumnus of St John's College, Oxford.
In my spare time I enjoy choral singing, classical piano, chess and programming, as well as hiking, skiing and playing squash.
Contact
Contact me by email at wgu2@princeton.edu with any questions! Other contact details are available on my contact page, and you can download my CV here.
Teaching
I have served as an Assistant in Instruction for these classes at Princeton University:
Awards
School of Engineering and Applied Science Award for Excellence
Princeton University, September 2022
Francis Robbins Upton Fellowship in Engineering
Princeton University, September 2019
Gibbs Statistics Prize
University of Oxford, July 2019
Royal Statistical Society Prize
Royal Statistical Society & University of Oxford, July 2019
Academic Exhibition
St John's College, University of Oxford, July 2016
Peer Review
Econometric Theory
Journal of the American Statistical Association
Journal of Business and Economic Statistics
Journal of Causal Inference
Operations Research
Conferences
Statistical Foundations of Data Science and their Applications
Princeton University, May 2023
Local organizing committee member